photo:
Ayesha's kitchen
Pomegranates are now in season, and I love this deliciousiously healthy, juicy fruit! However, I've never been sure of the best way to open them, so I did some research and found a great tutorial
here
. It shows the process step by step with photographs.
I like to eat pomegranate seeds alone, but they are also really good in salads and smoothies. I'm thinking about freezing some with a mint leaves in an ice cube tray to put in glasses of water for our holiday dinner. What do you think? Do you have any great recipes for pomegranates? Here is one from
thenibble
for a Blueberry Pomegranate Smoothie.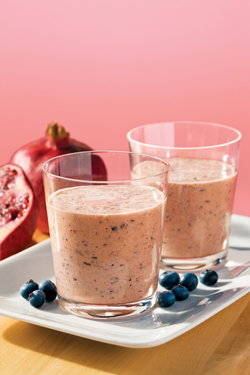 I stopped by a "Holiday Garage Sale" last weekend in my neighborhood and I found two green swags. I thought they were a steal for $2 a piece. I put them over two of the doorways in my foyer. I'm trying to decide if I want to add silver ball ornaments or something to them. I might just leave them plain.
I picked up this bag of vintage snowflake ornaments there also for 50 cents! I'll do something fun with them~just not sure yet. I have some ideas though.
Have a wonderful weekend! I have lots more to share, so come back soon!
~Robyn