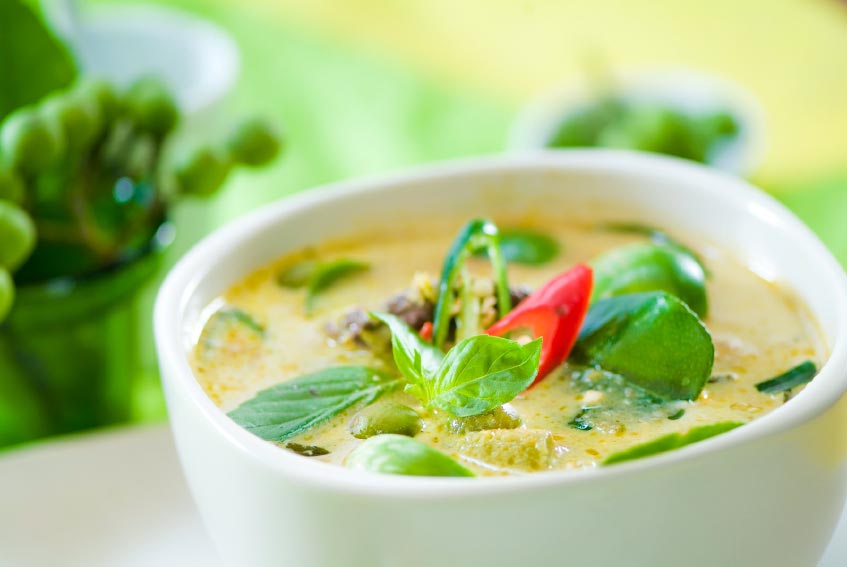 I love Thai food. Thai Curry in particular. I have a favorite local Thai Restaurant that I can't get enough of. Recently my husband and I went there with our 12 year old, and found out that he likes Thai Curry just as much as me. When we were both practically licking the bowl clean, I realized that I needed to figure out how to make it at home. I had tried one recipe, and it just wasn't like the dish at the restaurant. So, I started the hunt for just the right concoction.
Eventually, I found myself on Martha Stewart's website. She had a similar curry recipe that I almost tried, but when I went to the store, I had a hard time finding kaffir lime leaves. (surprisingly they did have lemon grass though!) A friend tipped me off to an Asian Market, but whenever I called, a girl answered and said her mom was not home and to call back. It must have been a family business, and I decided I didn't want to drive all the way over there to find out that they didn't have what I needed.
In the meantime I was looking in the Asian section of my local grocery store and found this. A small bottle of Green Curry Paste by Thai Kitchen.



I read the ingredients and found that it already had most of what I needed in this little paste. So instead of making the curry completely from scratch by buying my own chilies, lemon grass, and kaffir leaves etc., I decided to buy a jar and look up the online recipe on the back of the jar.
I made it last night, and I would have to say it was a success and tastes very much like the dish at my favorite restaurant. My son agrees, and loved it. Here is Thai Kitchen's recipe...
Green Curry Chicken with Basil
Ingredients:
1 can (13.66 ounces) Coconut Milk
1/3 cup vegetable
or
chicken stock
1⁄4 cup chopped basil leaves*
2 to 3 tablespoons Fish Sauce
1 to 4 tablespoons
Thai Kitchen® Green Curry Paste
2 tablespoons brown sugar
1 1⁄2 cups assorted cut-up vegetables, such as green or red bell pepper, zucchini, bamboo shoots, string beans
3/4 pound boneless skinless chicken breasts, cut into 1-inch pieces
Cooked Jasmine Rice
Cooking Instructions:
MIX
coconut milk, stock, basil, fish sauce, green curry paste and brown sugar in medium saucepan. Bring to boil on medium-high heat. Reduce heat to low; simmer 15 minutes.
STIR
in vegetables and chicken; simmer 10 minutes longer or until chicken is cooked through.
SERVE
over cooked Jasmine Rice
* I didn't have fresh chopped basil leaves, and it was still good. Also, I used string beans from my garden and it was delicious! I used 2 1/2 Tbsp of the Fish Sauce, and next time I would use all 4 Tbsp of the paste! We ended up adding a little more at the end. Although Ty liked it just the way it was, I wanted more spice, so I added a sprinkle of cayenne pepper to mine. :)