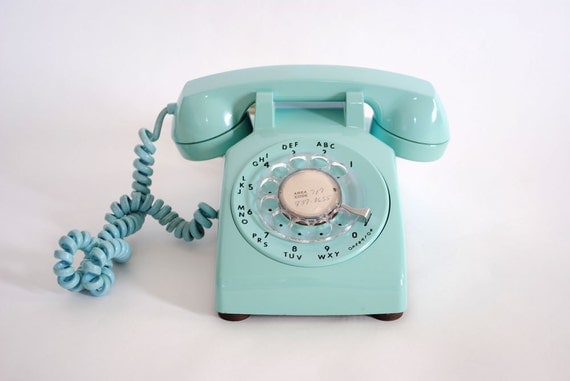 source
I know it is sort of odd that I collect them...but I really like old rotary telephones! (Like from the 1960's). My parents bought me a Pottery Barn reproduction black wall mount rotary phone for my birthday one year. Unfortunately it broke, so I was thrilled to find this one at a yard sale to replace it with...
And this one that I put next to my bed...
I found a cream colored desk rotary at a rummage sale recently for $1.00. It was pretty dirty, and I had to scrub it down. But, I couldn't pass it up for the price. I even considered spray painting it turquoise, but then decided that would be pretty tough to do with the numbers! It's great when they are functional, but they can be fun to decorate with also. As I sat on my kitchen floor scrubbing the cord of that cream one, I thought, "Am I crazy?" Well, maybe a little!