Last summer I happened upon a yard sale that had a huge box of stained wood for free. The owner told me that they had just remodeled their kitchen, and he was getting rid of the remnants. I wasn't sure what I would do with them, but thought maybe I would make some signs or something.
Then, while cleaning out my craft room, I found an unfinished wood decal that I had had for years and could never seem to get rid of it. I kept thinking I would do something with it, but I didn't know what or when. That got me thinking..."I could make an architectural piece....a decorative pediment."
So I pulled out one of the pieces of pre stained wood from the yard sale. Then, being lazy and not wanting a big mess, I started coloring the unfinished piece with a furniture marker.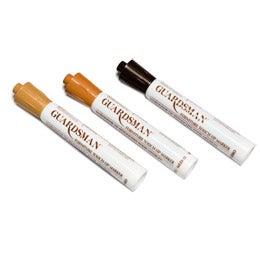 Then, I coated the back of the unfinished piece with wood glue, and mounted it to the piece of wood. I thought I would paint it light blue and distress it or something, but I ended up liking it just the way it was.
After it dried, I knew the perfect place for it! Over the mirror that I just moved from the family room to the foyer. That mirror really "opens up" my tiny foyer. And, I love the extra light it reflects.