I will be featured on
UCreate
~
my first official guest appearance!
I created an easy, inexpensive Holiday craft, and I will be sharing it with ucreate readers tomorrow. I hope you will stop by and check it out!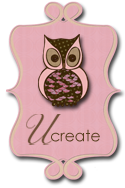 Also on my schedule for this weekend... (Are you ready?)
Hopefully, I will be getting this together...
Last year we had shipping delays. We also have fall and winter birthdays to mix in to the gift list. So I need to get started soon. If you want a fun gift list, download and print this vintage looking one that I made.
Also tomorrow, I will be sharing my new favorite dinner recipe! Thanks for stopping by!