This post is brought to you by the color pink. :) Even though I
love blue
, I like to have just a little bit of pink sprinkled here and there throughout my house. I think a little goes a long way, though. So, last year, I found this old shadow box in my house that I picked up at hobby lobby years ago. I mixed up my favorite pink shade with craft paints, painted it, and then distressed it with sandpaper.
I got out some old scrapbook paper that I picked up at a really cool antique shop, and sketched a vintage cruiser with a basket full of peonies and daisies. It looks cute up on top of my piano! Along with my
yard sale peonies
, it adds just another little *pop* of pink. I sure wish I would have bought the other peony arrangement at that yard sale...(they had two). I debated, and then decided just to buy the one.
Anyway, this year, I loved it so much that I decided to create another one for my
etsy shop
...Right now, it's on sale for $14.99. Lately, I've been selling a lot of my art on ebay! Like this birds nest painting...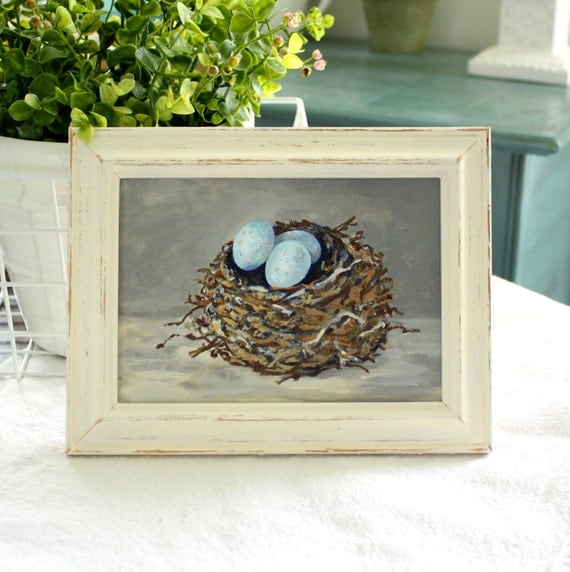 I have a few other pieces on sale in my shop also.
In other news, I tried out a recipe that I had pinned from pinterest for Mongolian Beef. It was a big hit with my teenage boys! Here is the
Recipe
if you would like it.
Have a great day!
Robyn